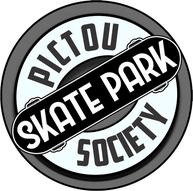 The Town of Pictou is a progressive community that proudly supports active and healthy opportunities for our citizens. Over the past number of years, the Pictou County Skate Park Society; a local group dedicated to fund-raising, and the Town of Pictou have been working in partnership to construct a skate park facility for our community. The goal of this project is to provide a first-class, safe and accessible skate park that broadens the Town's recreational opportunities and encourages active living for all ages and abilities. The facility will be an "all wheels" park that accommodates skateboards, scooters, in-line skating, and BMX bicycle users of all skill levels.
Growing Recreational Opportunities in Pictou County
There was an examination of possible locations for a skate park in the Town of Pictou. As a result, the lands within Broidy Park were chosen. Currently, there is an asphalt pad with a small metal ramp for skateboarding located at Broidy Park. The location of this proposed skate park is in the same space and will enhance the larger recreational area that includes a playground, tennis courts and sports fields.
There have been several community engagement meetings that have gathered ideas on skate park features and designs. These meetings have been well attended. A 3D rendering of the design has been completed along with budgetting details; engineered drawings will be completed by the spring.
The Pictou County Skate Park Committee and the Town of Pictou have contracted the services of Newline Skate Parks to develop the engineered drawings and the tender ready construction package of the Pictou All Wheels Skate Park.
About Newline Skateparks
Based out of Toronto, has a team of registered landscape architects, engineers, planning professionals and construction experts. They have built over 300+ parks across Canada, US and Europe in the previous 17 years. They have developed several skate parks in Nova Scotia including Amherst, Kentville, Queens County, and most recently Antigonish. They had previously visited Pictou several years ago and are familiar with the community, project and its history.
Pictou Skate Parks Society is reaching out to community partners and individuals to become involved in the project. If you have ideas to share, please contact Ashley George through the Facebook page for Pictou Skate Park.
As the project progresses, updates will be made to this page, along with the Pictou Skate Park Facebook page.
Project Progress
The All Wheels Skate Park costs associated to build, including design and technical reports are $288,000.
Ongoing fundraising efforts include donor requests, sponsorship, grant applications and fundraisers. Contact the Pictou Skate Park Society at skateparkpictou@gmail.com on how you can be a part of this exciting project for the Town of Pictou.
Location of New All Wheels Skate Park in Pictou

3D Drawings of Pictou's All Wheels Skate Park